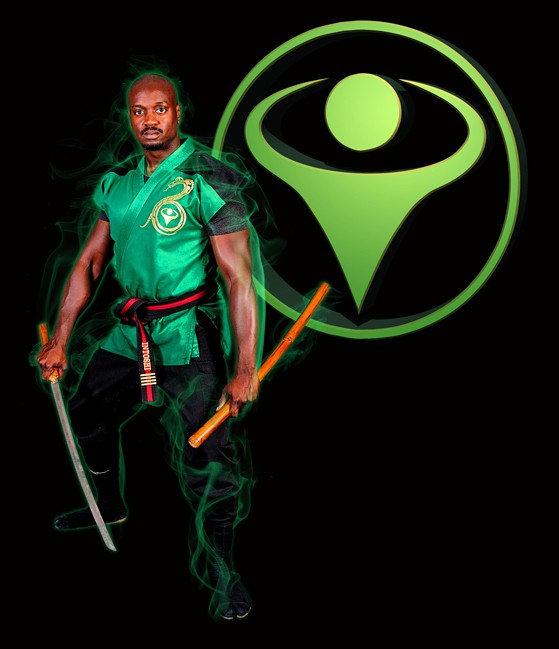 • 4th Degree Black Belt – To-Shin Do (Ninja Self Defense)
• 1st Degree Black Belt – FCS Kali (Filipino Combat Systems)
• 1st Degree Black Belt – Black Tiger Kali (Filipino Martial Arts)
• Wilderness Survival Instructor – The SOIL Foundation
• Certified Protection Specialist – ESI (Executive Security International)
Founder of The DOJYM at Elevo Dynamics a family martial art & 24-hour gym. Hakim has been involved in the martial arts for 30 years and the security field for 15 years. Hakim is a veteran of the Iraq war and an ex-member of the Army Special Operations community, where he received Arabic language training, survival training, evasion training, paratrooper training, etc. He holds a 4th degree black belt (Yondan) in To-Shin Do (modern Ninjutsu), as taught by world-renowned author and Black Belt Hall of Fame member Stephen K. Hayes. Hakim is a 1st Degree Black Belt (Manog) FCS Kali, and a 1st Degree Black Belt (Guro) in Black Tiger Kali. Hakim has also studied Brazilian Jiu Jitsu, American Jiu Jitsu, Gracie Barra Jiu Jitsu.
Hakim has served as a board member of Rape Crisis Volunteers of Cumberland County. He has served as a continuing education instructor of Defensive tactics and Fayetteville Technical Community College. He is an honors graduate and Certified Protection Specialist (Body Guard) through Executive Security International (ESI), where he completed over 600 study hours and practical training in principles of protection; human behavior; profiles of terrorism; counter surveillance and covert security; electronic security; bomb search and identification; etc. He is also a co-founder of Spirit Quest, a non-profit organization aimed at assisting at-risk.
Hakim is a published author of "I Choose to Act," a women's self-defense book, and the newly released "Battlefield Proximity Combat," a book (and DVD) on military and special teams combat tactics and philosophy (in stores everywhere). Additionally, Hakim has developed and instructed three curriculums: Assailant Countering Tactics (A.C.T.), a women's self-defense system which he has taught at community colleges and Rape Crisis organizations; Battlefield Proximity Combat (B.P.C.), a military, and special teams combative system which he has taught to multiple military, special response teams, and emergency rescue teams; and Hands on Subject Strategies (H.O.S.S.), a law enforcement tactics course which he has taught to more than 400 law enforcement officers and Sheriff Deputies.
Hakim is a Battling Ropes instructor. Hakim is also a NRA basic pistol and "Personal Protection in the Home" instructor. Hakim also appeared on the Discovery Channel's "Unsolved History" television program featuring the ninja, in addition to several internationally distributed martial arts instructional videos.