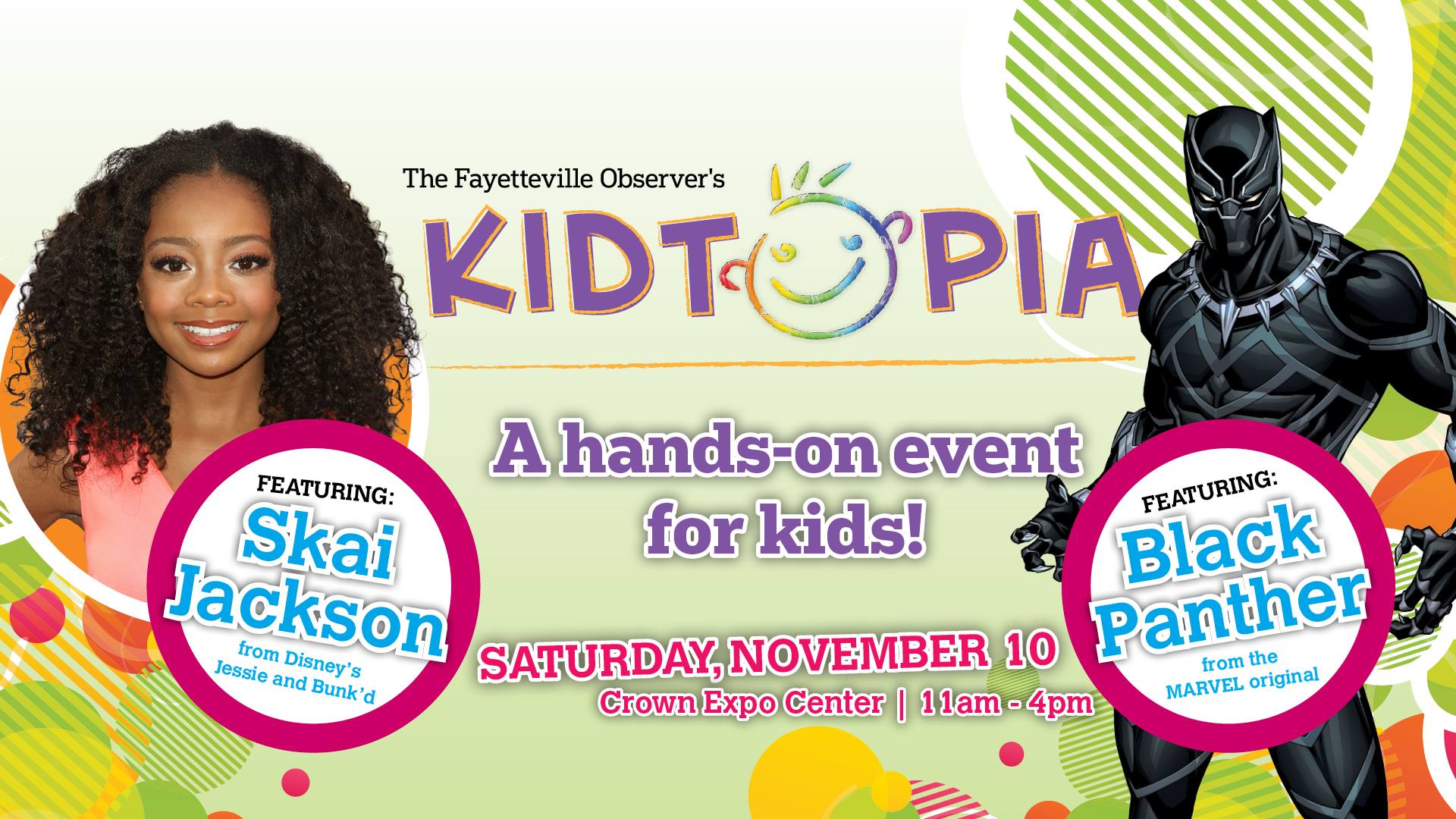 Dogym will be closed for classes Saturday November 10th , 2018.
Join us for The Fayetteville Observer's Kidtopia 2018!
November 10th, 2018 11 AM – 4 PM
Kidtopia is everything kids love. From inflatables and face painting to on-stage entertainment and favorite characters, this annual event offers something for kids of all ages!
FEATURING
Inflatables, On-stage entertainment, Characters, mascots and super heroes, Hands-on activities, Photo opportunities, Face painting, Balloons, Fire engines, police and emergency vehicles
Our Special Guests:
Skai Jackson is an actress and activist well-known for her roles on Disney Channel's Bunk'd and Jessie. She was named to The Hollywood Reporter's "Top 30 Stars Under Age 18," Variety's "Young Hollywood Impact Report" in 2017, Time's "30 Most Influential Teens of 2016″ list, and was nominated for a NAACP Image Award in 2016. She's also been featured on The Cut, Teen Vogue, and Ebony, among many others. She lives in Los Angeles. You can follow her on Instagram, Twitter, and Facebook.
Black Panther – Marvels Orgionals – For generations, the people of Wakanda have followed and worshipped the Black Panther, a superior warrior granted extra abilities by the Panther God upon proving him or herself worthy in a combat tournament open to all Wakandans. Wakanda stands apart from many nations because of its advanced technological nature, well-integrated with centuries-old traditions. Intent on keeping to itself for generations, the nation often rebuked visitors while also refraining from interfering in larger world conflicts. Wakanda's greatest natural resource, Vibranium, provides Wakanda both independence and technological superiority. The vibration-absorbing metal is cultivated in the Great Mound.
For much of the modern era, T'Challa has worn the mantle of the Black Panther, acting as both Wakanda" champion and its king. However, unlike many of his predecessors, T'Challa often eschewed his peoples' insular nature and journeyed out into the world–masked and unmasked–to become a hero to the entire globe and beyond.