By: Lisa Packer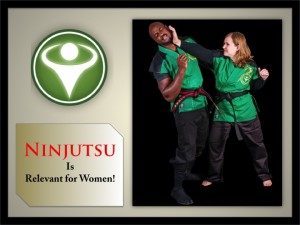 Last week I ran into someone I went to school with – more years ago than I like to think about. It was at his place of business and his interest in Martial Arts was on display. I mentioned I was taking Ninjutsu and he said:
"Is that really a relevant art for 2014? I guess maybe if you have an enemy to assassinate and don't want them to know it was you…"
I said something about it being much different than what you see in the movies and the conversation went on to other topics.
He's not the first person to question why I chose this particular martial art. Some are surprised to see a woman – and especially a woman with teenage kids – training in any martial art. But here's why I think Ninjutsu is especially relevant for me, and for women in general.
Ninjutsu Teaches Practical, Real-World Self Defense
Let's get this one out of the way first. As a woman I need to be able to protect myself. I refuse to live like so many women I know, who are afraid to go certain places and do certain things if they don't have some big strong man to protect them.
I have to travel several times a year for my job, and I'm almost always alone. If I lived my life in fear I'd have to lock myself in my hotel when work was over and miss out on exploring cities I've never been to. I'd never have been to the top of the Empire State Building at sunset. Never drove across the Golden Gate Bridge or met the incredible lady who owned the Italian restaurant I visited in San Francisco.
Maybe I was reckless to do those things. But now that I study Ninjutsu I know that even in those strange places I have tools to keep myself safe while I explore.
Ninjutsu Builds Confidence And Emotional Strength
This is something many women struggle with. For some reason we feel like it's impolite to stand up for ourselves or be too sure of ourselves. But Ninjutsu focuses on our mental and emotional strength as well as teaching us physical skills.
I've learned that the "Nin" in Ninjutsu stands for perseverance. I may not be the biggest or toughest or smartest person in any given situation. But I can be the one who hangs on the longest. I've already begun to notice myself pushing through things in everyday life that I may have let myself quit on before my training.
Ninjutsu has helped me discover more about who I really am and why I should be proud of that person. What woman doesn't need that?
Ninjutsu Teaches You To Solve Problems Creatively
Don't you hate it when plans go awry? It used to be one of the most frustrating things I could deal with if something I was working on or planning was altered or interrupted.
Many women (myself included) only feel secure in life when we feel in control. If the house is organized just so. If the schedule I created is running like clockwork. But life rarely lets that happen for long.
One of the coolest things I discovered when I began training in Ninjutsu is that surprises don't have to mean defeat. OK, I didn't turn around in the right direction when my training partner grabbed me from behind. The defense I was planning won't work now. But guess what? There's another technique I can use from this position. There's ALWAYS another technique that will work in any given situation.
There's always something you can do, always a way forward.
Is Ninjutsu Relevant For Women Today? Absolutely!
To be honest, I can't think of another Art that is MORE relevant for women (or anyone for that matter) than modern Ninjutsu. But don't take my word for it. Come join us at Elevo Dynamics and see for yourself!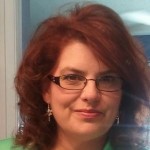 Lisa Packer is a freelance writer, Internet Marketing Consultant and student of Modern Ninjutsu. She currently holds the rank of yellow belt in To Shin Do and is looking forward to growing and progressing in this exciting Martial Art.