Survive and Win $1,000
August 26, 2016 @ 5:00 pm

-

August 28, 2016 @ 6:00 pm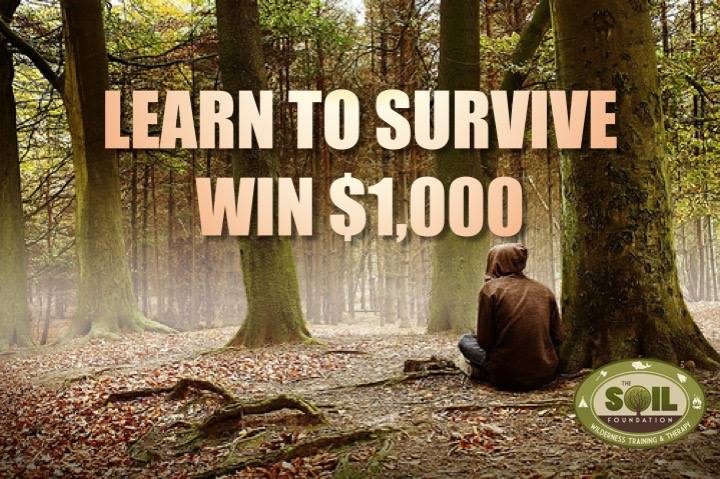 Ever want to learn how to Survive in the wilderness? Could you use an extra $1,000? Now is your opportunity. Learn from Naked & Afraid veteran & Ninja Survival Instructor Hakim-Black MacGyver-Isler as he teaches you & up to two teammates how to survive and thrive in the wilderness. Make fire, purify water, build shelters, primitive hunting & much more. If that isn't enough, there will be a team challenge using these skills that if your team is the victor you will walk away with a Cash Prize of $1,000.
You will not need anything for this event except a knife, the clothes on your back, a sleeping bag & tent ( if you prefer). All food & water will be provided. This class will take you from Zero to Hero and give you valuable tools that will empower you and change your life. (You will not have to do anything extreme or anything that you do not want to do. Just have fun, learn and try your best to win $1,000.)
All proceeds go to the SOIL Foundation, a Non Profit organization that provides wilderness therapy & training to veterans, civil servants, civilians, and troubled teens who struggle with high stress, anxiety, and other emotional struggles.
There is a 10 team maximum. 5 team minimum (a team can consist of of 2 or 3 individuals. )
Ages from 11 and Up (No youth only teams. Any youth has to have an adult on their team)
Held at the SOIL Foudation Property in Robbins NC.
Starting Friday 5pm to Sunday 6pm
Groups of Two – $500
Groups of Three – $650
Groups of Four – $750
Call 910-488-1021 or click below to register
https://www.eventbrite.com/e/survive-win-1000-tickets-26631340055